When you are building a website there are a number of important factors you need to consider to ensure your website appears at the top of Google and other search engines. In this article I share my top 5 tips to help you improve your website ranking and visibility .
Whilst stylish websites are lovely to look at – you need much more than just a nice website to ensure you are seen. SEO (Search Engine Optimisation) is the process of developing and increasing both the quality and the quantity of traffic to your website – this is done by increasing the visibility of your website to users of search engines. Put simply – it's about getting in the top 5 suggestions on Google! There are certain rules I recommend you follow to help you appear on the top page of the first page of Google. These tips don't guarantee anything but will very much help you on your way.
Firstly, I recommend you install a SEO plugin to support you through this process. The most popular plugin is 'SEO Yoast'. There is also another plugin called Rank Math, that I personally haven't used yet but it is highly recommended by SEO experts.
Still feeling overwhelmed? Let me break it down for you in 5 simple steps…
1. Connect your website to Google Search Console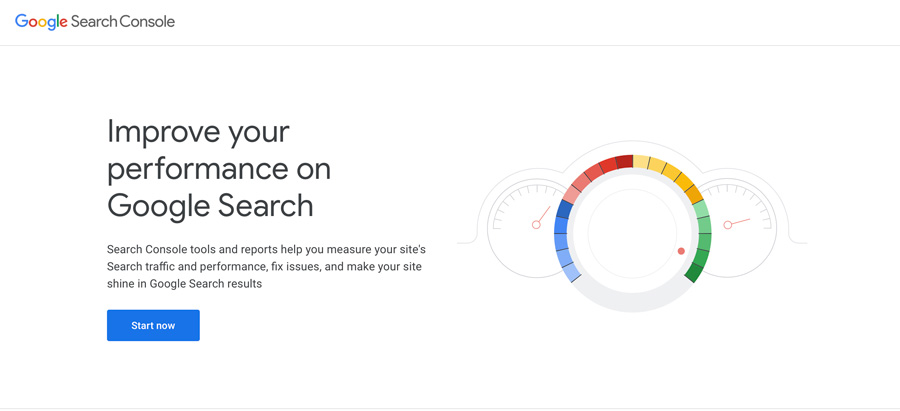 Google Search Console is a very smart and FREE tool. It monitors your website and gives you advice regarding how you can improve your visibility. I highly recommend this!
This tool will let you know when a page is not properly indexed. This is when a URL on your website has changed and customers are then taken to an error page.
Google Search Console also shows you how often your website appears on search engines and how the user got there (e.g. which word or phrase they searched ).
It also gives you tips about how to improve your website for mobile. For example, if your fonts or headings aren't big enough or your buttons are not displaying correctly.
2. Use SEO Titles
Your SEO titles should be different to your page titles. If your homepage is called 'Home' then your SEO title shouldn't be 'Home'. For example the SEO title for my page is: Julia Ferrari | Bold and vibrant websites for small businesses.
In the image below you can see how the title of my homepage website looks on Google search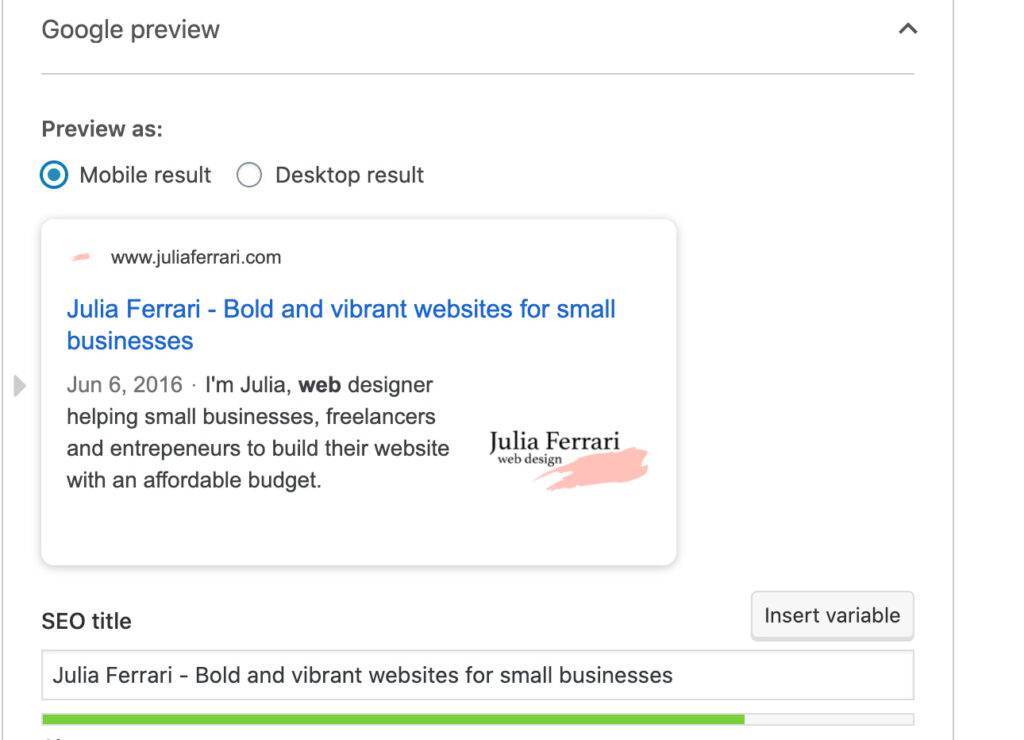 Make your title descriptive, give information what that page is about and use words that may match with Google searches
Every SEO page title must be unique (don't repeat!)
It shouldn't be too short or too long. The SEO plugins should guide you here and are very helpful.
3. Meta description
This is the description that appears below the SEO title on your Google search. This must give a global idea about your page or your article.
This description has to be unique on every page.
You can use your excerpt or the first paragraph as meta description.
Try to include the page title and page tags in the description.
Heading tags:
It's very important to apply heading tags across your whole website. Heading tags are a piece of code that indicates that there is a title in place. Google easily finds these tags and uses that information to inform people's searches .
The code looks something like this: <h1>This is a main title</h1>
The tags allow you to give hierarchy to your content. The main title of your article/page should be "h1", subtitles h2, additional titles h3, etc..
WordPress allows you to create your own H tags – you would usually find this option in the customisation. These tags also ensure your headings are clear and there is a good variety of different styles across your headings. Be sure to always use H1 for your main headings.
You can apply the tags whilst you are creating your posts. WordPress editor allows you to add this tags very easily.

It doesn't matter which Content System Management are you using – I highly recommend that if you have your content in a word doc file, don't just copy and paste your text and just save it. Take some time to review your tags and apply them correctly.
5. Permalinks
People usually don't pay much attention to their page link, but this is another important thing to consider when thinking about your SEO strategy.
Permalinks can be set up in different ways. I recommend you go to your WordPress Permalink options (Settings > Permalinks) and use the option "Post name". If you have many categories for your article you can create your custom permalink and add the category between the site URL and the post name (See image below)
The post name part in the link is called slug.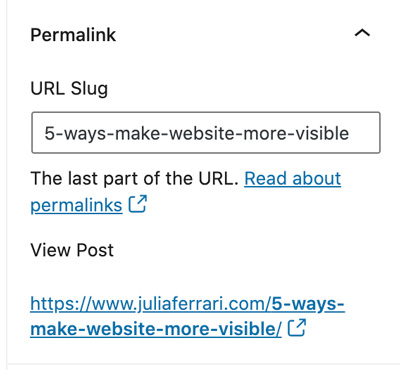 If you go to edit any of your posts you will find that you can edit your slug. You should review your slug every time you add a post. If you are worried that changing your slug would affect the link that you have already shared – the good news is that WordPress will redirect to the new page when someone is using the old link.
Here are some tips to optimise your slug for Google:
Use hyphen (-) to separate words
Avoid special characters: ' , &, %
Remove unnecessary words – only use relevant words that will be searched
So there you go! My top 5 quick tips to help you boost the visibility of your website. You can also find out more information here: 'SEO tips for your website.'
If you want to have a website that's optimised for Google then I highly recommend you use WordPress. You can learn how to build your WordPress in a very easy way on my course. As well as creating a beautiful website I will show you how to set up and connect your website to all the Google tools. Sign up now !