Last year Elementor became very popular and made life a lot easier for many many WordPress users. Elementor is a Front End page builder plugin. Front End means that you can see the page whilst you are editing and there is no need to understand or implement coding to edit the page. This means as a non-expert you can be self-sufficient and confident in managing your website day-to-day!
I really believe Elementor is a fantastic tool – it's also FREE!
How can Elementor make your life easier?
Drag and drop elements on your page. Elementor has a toolbox with unique and easy-to-use elements for your page. For example, images, text, contact forms, newsletter subscription, etc…You can easily place these elements in any part of your website.
Create your own custom colour palette. You can pre-set your colour palette and save it. Then any time you want to edit the colours you can use your own chosen colour palette.
You can see how everything looks as you edit. WordPress editor by default doesn't allow you to see your edits from the editor, you need to click on preview.
You can save your pages as templates. These pages can then be reused in other pages on your own website and they can even be exported onto other websites.
It can be easily integrated with the most popular email marketing subscriptions e.g. Mailchimp or Mailerlite. You can create newsletter subscription forms and after someone subscribes you can redirect them to another page. This is a very powerful marketing tool – for example, you can send customers to a special 'freebie' page on your website after they've subscribed to your email list.
Elementor can be integrated with the most popular plugins. If you are using 'Woocommerce' you can create a checkout or cart page using the Elementor block.

You can view and edit your pages for different devices. It is essential to consider how your website looks on mobile. As consumers, we often find websites that look great on desktop but on mobile the images are cut or not displaying great. Elementor allows you to customise your page just for mobile. Isn't that great?!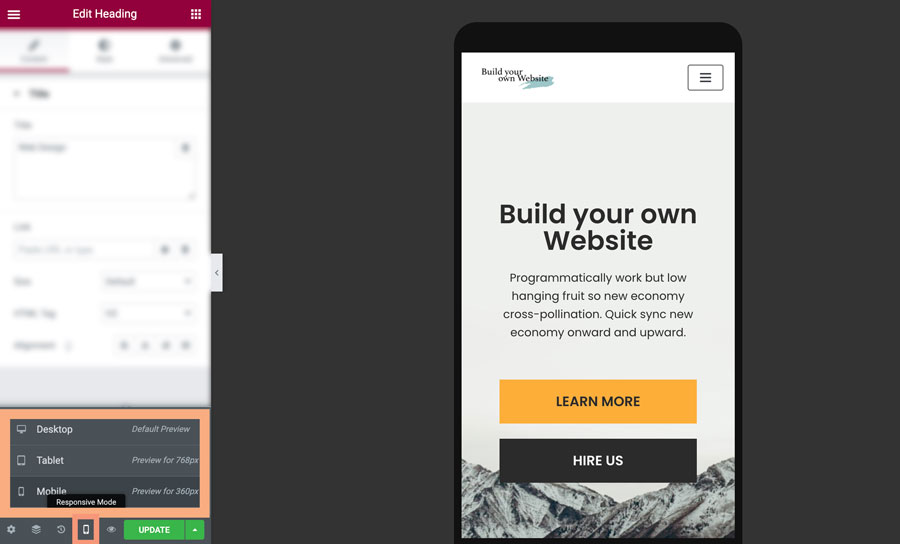 Some important point to consider:
Elementor also has a pro version and some of the modules e.g. Carousel testimonials are only available on the paid version. So be aware of this!
If you want to have a website that utilises Elementor – then why not sign up to my online course to find out more? Here you will learn how to install a theme with this fantastic builder and I will teach you how to make the most out of this intuitive and invaluable tool.